Boizel Brut Reserve & Boizel Rose - GIFT BOX
00029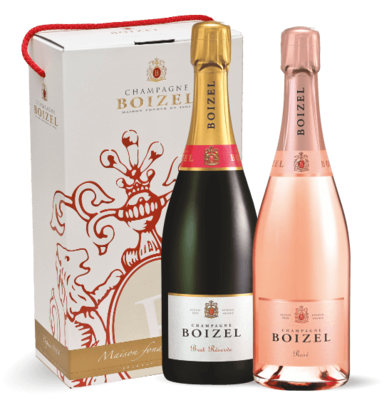 Gifts
Perfect Gift for any Champagne Lover! A bottle of Champagne Boizel Brut Reserve and Boizel Rose packed in a lovely Boizel branded gift box with a rope handle for easy carrying.
Boizel Brut Reserve
This Cuvee is obtained by a precise blend of the three Champagne grape varieties. Brilliant straw gold in colour. Great finesse with tiny bubbles in swirling columns. Expressive, fine and fresh nose of white flowers, followed by an elegant fruity ambience with notes of white peach, apricot, hints of citrus fruits and brioche. The texture is fresh and round with lovely persistence.

Boizel Rose
Delicate Rose dominated by Pinot Noirs - selected for their finesse and their personality. Combined with Chardonnay's elegance and topped by Pinot Meunier's fruitiness. The fine and subtle bouquet reveals fruity and delicate notes of raspberries and wild strawberries. Velvety and deliciously fresh palate. Fresh and smooth finish.
Includes:
1x Boizel Rose (750ml)
1x Boizel Brut Reserve (750ml)